U-FAST MASS is powered by our proprietary U-FAST power system, which is scalable and compact, reducing the size and cost of the device. U-FAST MASS also features a modular design that allows you to customize the processing parameters, such as heating rate and maximum sintering temperature, according to your needs.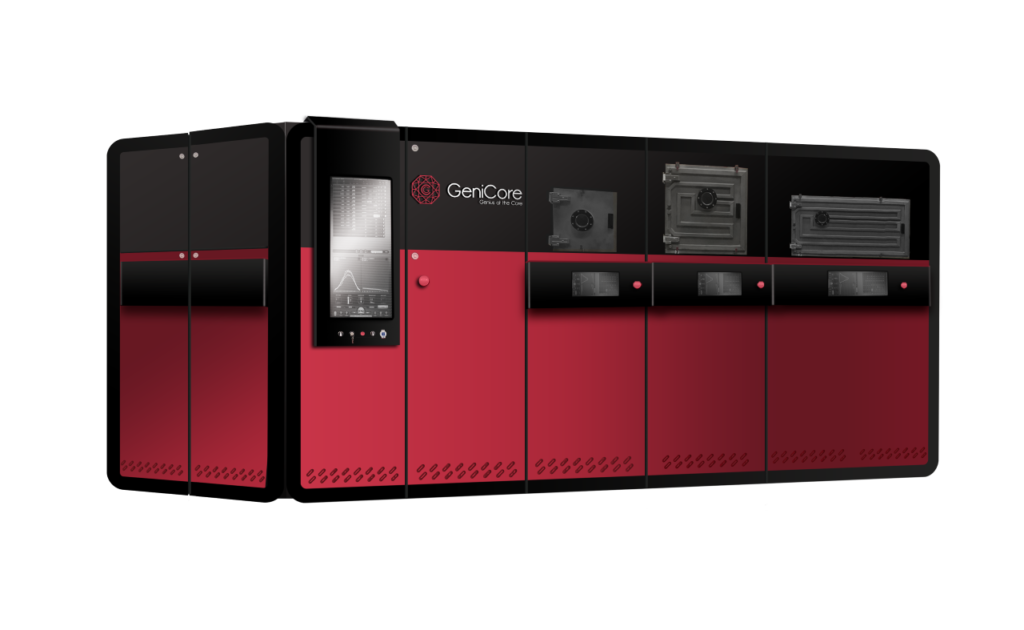 U-FAST MASS consists of three water-cooled vacuum chambers with full front access for easy operation and maintenance. The doors are hinged for convenient loading and unloading of materials, as well as inspection and cleaning of the chamber. The vacuum pumping system is also modular, enabling you to work with different vacuum levels and atmospheres in each chamber independently. Moreover, you can transport materials through the vacuum chambers at a low pressure of 10E-5 mbar.
The automatic feeding system can be adjusted according to the size and frequency of the sintered elements and the peripheral chambers. This ensures a smooth and continuous production flow.
U-FAST MASS is equipped with a proprietary high-efficiency energy-saving power supply that generates precise DC pulses with predefined parameters. It has a converter module and a rectifier that are mounted in a way that minimizes energy losses and eliminates unnecessary switching losses. This allows you to achieve higher heating rates with the same power output compared to other solutions. The primary side power supply capacity is also reduced, making it more economical.
U-FAST MASS has a flexible modular structure that can be retrofitted to tunnel-type continuous furnaces with degassing chamber, sintering chamber, and cooling chamber. You can also add various material handling automation equipment, such as loading/unloading conveyor lanes and workpiece removal equipment, to enhance your productivity.
U-FAST MASS has an accurate process control system based on a Siemens PLC and software that provides full functionality. The main screen displays all the essential information and allows easy control of the process. The system measures and records various parameters, such as electrical current, voltage, temperature, pressure, Z-axis position, vacuum level, and others specified by the process.
U-FAST MASS has a short cycle time that makes it superior to conventional methods such as hot pressing, HIP, and normal pressure sintering. U-FAST MASS combines a state-of-the-art power source with stamps made from dedicated materials and a housing that reduces energy transmission losses and processing time. This results in the most precise DC heating system available in FAST/SPS technology. Accurate energy delivery is critical in applications where limited material grain growth is the most important parameter. U-FAST MASS can speed up your production process significantly and deliver high-quality materials in a short time.